Every fortnight, enjoy challenging essays from the world's most distinguished thinkers and writers.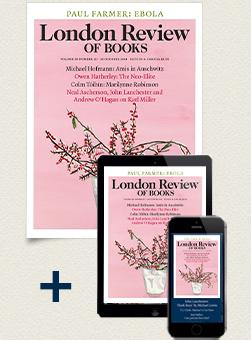 Your full print & digital subscription package includes:
• The London Review of Books magazine delivered direct to your door
 • FREE unfettered access to the entire online 30-year LRB digital archive – over 13,500 reviews, features, diaries, letters & poems 
• The latest issues FREE on your iPad or iPhone through the LRB app, so you can take the LRB everywhere you go
• Our no-risk guarantee: full refund on all unposted issues
...So connect with the world's most entertaining writers and critics. And rethink every assumption you hold by taking the London Review of Books in your hands today.
The LRB provides a space in which intelligent people can think differently; in which discomfiting thoughts can be voiced and provoking arguments can be aired with enough room to breathe.

- The Guardian Observer

The liveliest, the most serious and also the most radical literary periodical we have.





- Alan Bennett

The London Review of Books is an entire culture.



- Zadie Smith

The LRB has the best sheer quality writing of any magazine I know…a fine, scrupulous and eccentric literary journal.

- Guardian